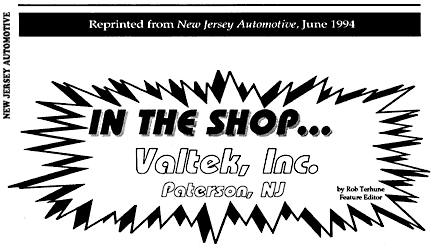 "Value Through Technology"-that's what Valtek stands for and its staff has gone to great lengths to prove it. Billing itself as 'the' truckbody shop." Valtek's principals have meticulously planned and molded the business into a state-of-the-art collision-repair center for trucks.
Valtek operates out of a 16,500-square-foot facility located just off Route 20 in Paterson, New Jersey. After entering the professionally appointed offices and customer waiting area, the most impressive and striking aspect of the facility is the vastness of its 15.000 square feet of actual shop space. With its high doors and high ceilings, 20 working bays and mammoth spray booth, the shop seems more like an airplane hanger than a collision-repair facility.
The layout and design of the shop were done specifically for three main reasons: service, quality and speed. "We take a little different approach here to provide our customers with something," said Brian Vesley, president of Valtek. "We utilize technology to reduce labor costs and increase efficiency.
"Fleet and trucking accounts are very sensitive to turnaround time," he added. "The cost of downtime is often far more than the cost of the repair."
Everything in the shop is built around the principles of good, fast service and a quality product. Consequently, the shop is designed for maximum efficiency. The 20 bays, each equipped with electricity, lighting and air, are arranged almost like parking spots at a shopping center. They are angled toward the walls of the building with a wide center passage aisle - which is always kept clear-in the middle leading to the spraybooth.
"We set this facility up specifically for trucks," Vesley said. "The layout allows us to move an individual truck without having to move a bunch of others. We set it up so we don't have to spend a lot of time moving trucks which results in downtime and a loss in manpower.
Valtek opened its doors in the first quarter of 1993, but the planning and development behind it went on for over a year. Brian got together with his brothers Dennis and Bruce and decided to form the business. "This was a chance to get together in business, which is something we've talked about for years. "Vesley noted.
Before heading up Valtek, Brian practiced law in New Jersey and then spent time managing several companies through financial turnaround situations. Dennis Vesley, vice president of sales for Valtek, has been in the collision-repair business for 25 years, mostly in the automobile end. Bruce Vesley, vice president of production for Valtek, ran a major repair/service facility for a forklift company in addition to his auto-body experience.
"We believe a large number of trucking companies doing repairs in house will find it no longer feasible in light of the environmental requirements," Vesley said. "A lot of the outside facilities doing truck repairs only do them occasionally and are usually not equipped. You need more space for trucks, heavier equipment, knowledge in parts and you need to get the job done quickly."
Once Valtek opened, it didn't take before fleets and commercial accounts began taking notice. With Dennis on the road knocking on doors and explaining the benefits of Valtek, within the first few weeks steady work was coming in.
The Valtek staff currently stands at 12 including Brian, Dennis and Bruce. The office is managed by Cackle Scott. The shop features two painters and six body technicians.
While there are some similarities between truck-body repair and auto- body repair, there are also many differences. For instance, in many cases Valtek does not have to deal with insurance companies and the negotiating process. However, according to Vesley. Estimates are much more critical in truck repairs than in the auto-body industry.
"A lot of our customers are self insured, so they have their own process of evaluating a vehicle and determining the cost of a repair," he said. "One of the biggest elements is that unless you have a solid relationship with a company, most fleet operators look for three bids on each job. The estimating process is much more competitive than in conventional auto-body repairs."
Not unlike the auto-body industry, Valtek must deal with competitors who low ball estimates to the point where they can't possibly make a profit on a job. "We spend a lot of time educating the owners and operators on what it costs to repair a vehicle," he said. "It's difficult to compete with somebody who is going to lose money on a job.
According to Vesley, another issue is a lack of comprehensive crash estimating guides for the trucking industry. "One of the dangers of being in this industry is competing with people doing repairs who don't seem to be aware of the inadequacies of the manuals," he noted. "They are quoting prices from the manuals that cannot be profitable. Because the guidelines in the manuals for the trucking industry are not valid in many cases, we have to compete with low estimates.
"With cars, you can go to five different dealers in your area alone for a part if you need it," he added. "With trucks, you're usually down to a single dealer. Even then, the stocking of parts is spotty at best. Sometimes delivery can take five to 10 days. Other times the parts are not even stocked and the manufacturer has to fabricate the part."
Valtek joined ASA-NJ shortly after opening for business. Vesley recently joined the association's legislative committee. "I think we can improve the business environment for body shops in New Jersey," he stated. "We need to eliminate the backyard-type operations."