"Fixing the Big Hits at Valtek"
"PATERSON, N.J.—As you drive up the road to Valtek Inc., it looks like an ordinary collision repair shop. But when you proceed past the front office and into the shop area, you're overwhelmed by the shop's vastness. You begin to feel small as you look up at the high ceilings and approach the mammoth heated downdraft spraybooth."
For the complete article, click here.

"Valtek Inc. is Axalta Certified"
"When the three Vesley brothers got together to form a partnership four years ago, it wasn't as if they were all desperately searching for a career change. The brothers, all in their 50s, had each achieved success in their own right. Bruce ran a major repair/ service facility for a forklift company, Dennis owned an auto body shop, and Brian practiced law before managing several companies through financial turnarounds.…"
For the complete article, click here.

"Valtek Inc."
"Just one block in from Route 20 in Paterson on 20th Ave., in a 16,500 square foot building the size of an airplane hanger, is Valtek, Inc., the leading truckbody and commercial vehicle repair facility in Northern N.J. This reporter recently met with Brian Vesley, President of Valtek for an in-depth interview and a tour of the facility."
For the complete article, click here.
"Marketing to Volunteers Who Don't Get Paid"
"Fire companies have more marketing tools than they realize. Adopting ways to make your municipality's volunteers' contributions more visible and their value more clear requires a concerted public relations effort that can pay big dividends. Parsippany District #5 uses its services and equipment effectively to win support."
For the complete article, click here.
"Little Silver"
"They say "Good things come in small packages." The Volunteer Fire Department in Little Silver, a borough of almost six thousand people in Monmouth County proves that they understand this maxim. They recently rehabilitated a 1984 E-One Tilt-cab Heavy Rescue Truck. Because its small size makes it useful in a wider variety of situations than the new larger rescue trucks, the fire department decided to upgrade the older truck and keep it in service, saving the town considerable money."
For the complete article, click here.

"Bayonne Fire Department Serves by Saving City Money"
"It was December 1979, disco was king and Bayonne's Truck Company #2, the busiest in the city, was happy to take delivery of a new Mack Aerial in the latest safety color, lime green. Chief John T. Brennan and his staff put a lot of thought into the $250,000 purchase back then which has served the city well."
For the complete article, click here.
"Totowa's Gloor lends his newly restored pumper to celebrate 100th Anniversary"
"There was a special entry in Totowa's 100th Anniversary parade on June 27. Former Assistant Fire Chief, Frank E. Gloor paraded his newly restored, personal fire truck, a 1950 Mack Triple Combo Pumper. It's a sentimental tribute to the town he loves and a life spent wrapped up in fire fighting and family."
For the complete article, click here.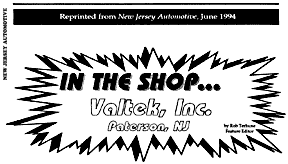 "In the Shop…Valtek, Inc"
"ValueThroughTechnology"-that's what Valtek stands for and its staff has gone to great lengths to prove it. Billing itself as 'the' truckbody shop." Valtek's principals have meticulously planned and molded the business into a state-of-the-art collision-repair center for trucks."
For the complete article, click here.