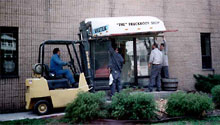 About Valtek™
Auto body truck collision repair, painting, frame repair and body modification for trucks, fire trucks, buses, rv's and specialized vehicles are provided in Valtek's state-of-the-art truck body shop.
That's why Valtek is the "TruckbodyShop"™ for the New Jersey/New York metropolitan area's body work needs.
Auto Body, Paint and Frame Truck Body Repair Shop
Valtek's™ 16,500-square-foot auto body, painting and frame repair truck shop is located just off Route 20 in Paterson, New Jersey. With its high doors and ceilings, 20 truck bays and mammoth spray booth, the truck body shop can do body repair and painting on any truck or specialized vehicle including a fire truck, tractor, bus, heavy equipment or rv.
The layout and design of the shop were done specifically for service, quality and speed. "Value Thru Technology"-that's what Valtek™ stands for and its staff has gone to great lengths to prove it. "We take a little different approach here to provide our customers with value," said Brian Vesley, president of Valtek™. "We utilize technology to reduce labor costs and increase efficiency."
For maximum efficiency, each of the truck body shop's 20 truck bays, are equipped with ample electricity, lighting and compressed air and are angled toward the walls of the building with a wide center passage aisle, which is always kept clear, leading to the spray booth.
Painting
Paint is applied in Valtek's 50 foot heated downdraft paint booth providing you with a clean, properly cured paint finish. High volume low pressure paint equipment delivers more paint to your vehicle (less waste). Trained painters use a full complement of Axalta® tints and finishes to match your vehicles color following formulas in our Axalta Colornet® computer.
Frame Repair
Over 150 tons of pulling power and truck sized gauges enable Valtek to perform proper frame straightening and frame modification or repairs.
Accident Claim & Repair Records Support the Auto Body, Paint and Frame Truck Body Repair Shop
Valtek's knowledgeable personnel and computerized office procedures and equipment deliver friendly, efficient information, reports and assistance. This makes certain your accident claim and repair records for auto body repair, paint work and frame repair on your trucks or specialized vehicles including fire trucks, tractors, buses, heavy equipment and rv's are accurate and complete.