Filling A Niche
Paterson, New Jersey
When the three Vesley brothers got together to form a partnership four years ago, it wasn't as if they were all desperately searching for a career change.
The brothers, all in their 50s, had each achieved success in their own right. Bruce ran a major repair/service facility for a forklift company, Dennis owned an auto body shop, and Brian practiced law before managing several companies through financial turnarounds.
But they had often talked about getting into business together, and in 1993 they saw a niche market that they were uniquely qualified to fill: heavy-duty truck repair. They decided to pool their talents and fill that niche.
The opportunity, according to Brian, resulted from two factors: "First, some truck fleets had stopped doing in-house painting because they were not willing to invest in the equipment required to meet new environmental laws. And second, standard body shops were not providing the service demanded by truck fleets."
Making A Move
After a year of planning and searching for a facility, the brothers made their move. They leased a modern free-span building located just off Route 20 in Paterson, N.J. They gutted the back portion of the building, put in additional lights, installed two compressors, a 50-foot spray booth, a mixing room, and laid out 20 bays along both sides of the shop by painting stripes on the floor, like angled parking spots at the mall. Each bay has its own electricity, lighting and air. An aisle in the middle of the floor is wide enough to accommodate trucks. The result is 16,500 square feet of efficient work space that is Valtek, Inc.
"The layout allows us to move a truck without having to move a bunch of others," says Brian. The result is less downtime and fewer wasted man-hours, he explains.
Valtek started with eight employees. Today there are 15, including Brian's wife, Cackie Scott, who runs the office. Brian handles administrative duties and marketing, Dennis is the salesman and Bruce oversees the shop.
There are two painters, Fernando Rivera and Scott Rainey, and five prep men. "We've been using HVLP guns since we opened," says Bruce Vesley. "They use less material, and our painters have gained some valuable insights because of their experience with HVLP equipment. They turn out some nice jobs."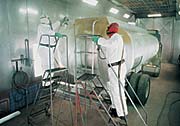 All Fleet Finishes
All of those jobs sport Axalta Automotive Finishes. Valtek uses virtually the entire Axalta fleet finishes lineup: Imron® polyurethane enamel, Imron 6000® Low-VOC basecoat/clearcoat, Imron® 5000 Low-VOC single-stage, and Centari® acrylic enamel.
The painters choose from a range of primers: Variprime® and Corlar® on aluminum and bare steel, Tufcote§ for construction equipment, and URO Primer-Filler as a build primer.
Valtek became the first Axalta Certified Commercial Refinisher (CCR) in the area. Among other requirements, the Axalta CCR program stipulates that the shop must use 100 percent Axalta product systems for all warranted repairs and employ at least one painter who has completed formal training in a Axalta Fleet Finishing course. In return, the shop receives marketing and merchandising materials as well as a warranty on all Axalta finishes.
"The CCR program enables us to demonstrate to customers that we meet Axalta's high standards," says Brian. "And of course it's a name people recognize. We use it on our stationery."
"We get great support from Axalta and our sales rep, Mike Liccone," he adds. "And Tim Peoples, a fleet specialist, has come in to help us."
Brian estimates that Valtek's work is split evenly between overall paint jobs and repairs. The monthly output is about 50 jobs, ranging from small post office trucks to cranes.

To see the work in progress, click here.
Word-of-Mouth
The shop benefits from excellent word-of-mouth as well as aggressive sales and marketing. Dennis Vesley devotes all of his time to sales, calling on existing accounts and developing new business. Yellow Pages advertising and direct mail have also brought in business.
The brothers quickly discovered that fire trucks can be a particularly attractive market. A booth at the New Jersey Fireman's Convention brought them some work, including a 1937 Ahrens-Fox Fire Engine owned by the Ho-Ho-Kus (N. J.) Fire Dept. They painted the restored piston pumper with Imron 6000® low-VOC basecoat/clearcoat. "We're very proud of the Ahrens-Fox," says Brian, "and the customer liked the job too. We enjoy doing high-quality jobs, and fire companies definitely demand that kind of work." Now, he estimates, fire trucks represent about 10 percent of Valtek's business.
The shop has been a leader in promoting high standards in the commercial vehicle refinishing industry. It's been the site of two seminars ? one for fleets and commercial truck shops and another for auto body shops. Axalta personnel participated in both. And as chairman of the New Jersey Automotive Services Assn. Legislative Committee, Brian has been a leading advocate of improved legislation on auto body shop requirements and aftermarket parts.
Critical Estimates
The Vesleys have found the truck repair business to be different from, but just as challenging as, auto body repair. For instance, in many cases Valtek doesn't have to negotiate with insurance companies. But, according to Brian, estimates are much more critical in truck repairs because many customers are self-insured. "As a result, they have their own process of evaluating a vehicle and determining the cost of a repair," he says. "So unless you have a solid relationship with a company, most customers want three bids on each job. The estimating process is much more competitive than in conventional auto body repairs. And making certain the customer understands the quality of the procedures and materials in the estimate is all-important."
The brothers have managed to turn these complications into advantages. "Not enough people treat this as a business," says Brian. "We do."
And business is booming.
Axalta Refinisher News. Reprinted by permission.